Step-by-step instructions for delicious biscuit rolls that can be wonderfully filled and decorated in a variety of ways. With helpful FAQs so that even beginners can do it without any problems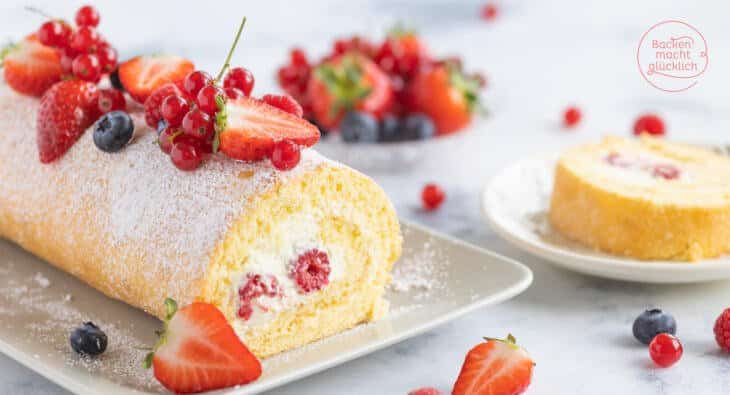 Such a Swiss roll not only tastes heavenly, but is also a real eye-catcher. However, many hobby bakers do not dare to try Swiss roll recipes because they actually seem a bit complicated at times. This is going to change! Because in this post I'll show you step-by-step instructions for Swiss rolls.
Admittedly, I also avoided it for a long time. Normal sponge cake is no problem at all for me. You often hear that the Biscuitsroulade breaks, does not look beautiful or sticks to the tea towel. But: With grandma's help, (almost) everything works ? – and so, at almost 88 years of age, she also took away my "fear" of preparation. Of course, you need a dough that is easy to roll and fill. That is the first important and probably even the most important point in baking. How many eggs do you need and can you bake the Swiss roll with whole eggs without separating? Then it's time to roll, which is also a bit tricky without good guidance. The filling must not run away or swell out. And then there is the question of how to get a Swiss roll round. Everything will be cleared up soon. Get your appetite with the pictures!
There are very, very different Swiss roll recipes, with the most varied proportions between eggs and flour, with big differences in terms of the filling (s), but above all in terms of rolls. Grandmas Basic Swiss roll recipe with 5 eggs has been tried and tested for decades. Even if she used to prepare the roulade a little differently. So that you can also make the delicious pastries, I have summarized the most important tips and tricks as well as answers to frequently asked questions.
So you are guaranteed to make the biscuit roulade
FAQ
Can you make the dough for Swiss rolls with whole eggs?
Yes, I even advise it because it is easier and also becomes wonderfully fluffy. It is only important that the eggs are beaten for a very long time until the flour is added. This should only be folded in very carefully or stirred in very slowly and briefly with the machine.
How long does a sponge cake base for the roulade need to cool down?
In my recipe, the sheet of dough remains to cool down and is not rolled up before it is filled, in order to then unroll and fill it again. However, it has to cool down with a damp cloth (see recipe). For me it takes about 20 minutes.
You can find this and all other recipes in our APP
Simply bake your favorite recipes without advertising or other distractions, and sort the recipes in your own collections.
Learn more about our app!
What if the roll sticks to the tea towel or baking paper?
After baking and turning over, the baking paper should be carefully peeled off immediately and then put back on the roll. If that doesn't work at all, you can use a brush to rub some water on the paper to loosen it.
Why does the Swiss roll sometimes tear?
On the one hand, if the dough has been baked too long and is therefore too dry. On the other hand, if the baked sheet of dough does not cool down in a damp environment, but without a cover. There is no need to roll up the roller to cool it down, as most recipes recommend! In addition, you have to bake with top and bottom heat, not with convection.
How can you roll up the Swiss roll? What does it mean to roll it up from the long side?
The roulade is rolled up using the parchment paper that lies under the sheet of dough. This should be in front of you so that you are looking at a wide rectangle instead of a tall one.
How long can you keep a Swiss roll?
Like any other cake filled with cream or quark cream. This is usually possible for a maximum of 3 days. So you can easily prepare them the day before; then she also pulls through beautifully. In addition, you can usually freeze the roulade. But here it depends on the type of filling.
I hope I can use my basic Swiss roll recipe with tips and tricks to encourage you to make the pastries too.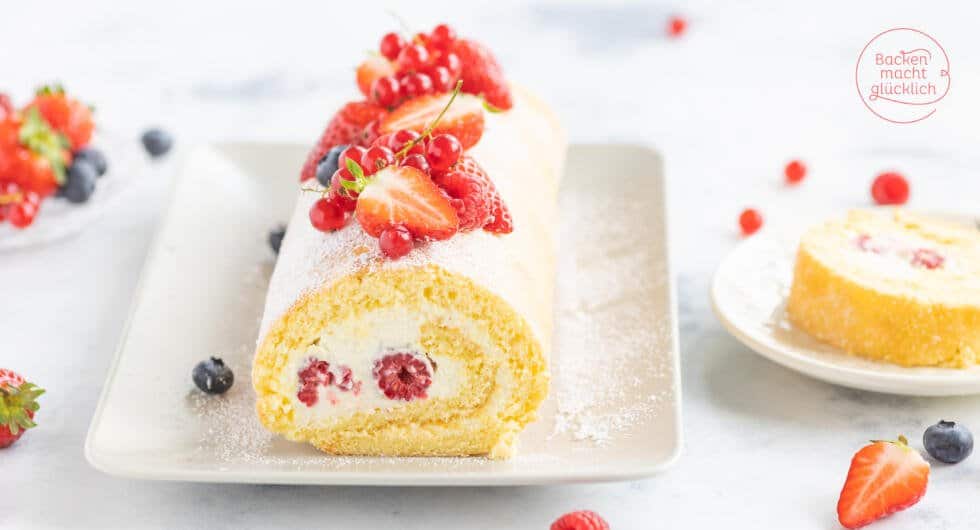 You can let off steam when it comes to the filling: Quark cream is just as delicious as a mascarpone cream, cream cheese also works, you can Swiss roll without gelatin to prepare or with. It tastes pure, flavored only with a little lemon, or with an additional layer of jam and fresh or canned fruit. Well, get pleasure? Be sure to read the basic biscuit recipe and be inspired by this variant with blueberries, my other spring recipes and cakes.
Basic Swiss roll recipe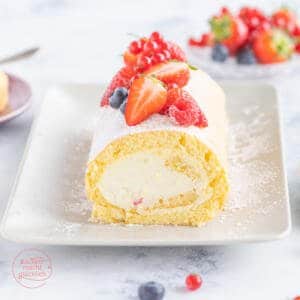 Print recipe



Save on Pinterest

To the comments
Click stars to rate
A surefire recipe for a delicious sponge roll that you can fill and decorate as you wish
Quantity: 1 gr. Roulade
ingredients
For the dough
5

medium sized

Owner

130

Gram

Zucker

150

Gram

Flour

1

teaspoon

baking powder

1/2

teaspoon

Lemon zest or vanilla

at will

1

tablespoon

Zucker

for sprinkling the baking paper
For the filling
400

Gram

Scene

3

parcel

Stage

or gelling agent see tips

200

Gram

cream cheese

or low-fat quark

100

Gram

Zucker

depending on the type of fruit

1

tablespoon

Lemon juice

fruit

at will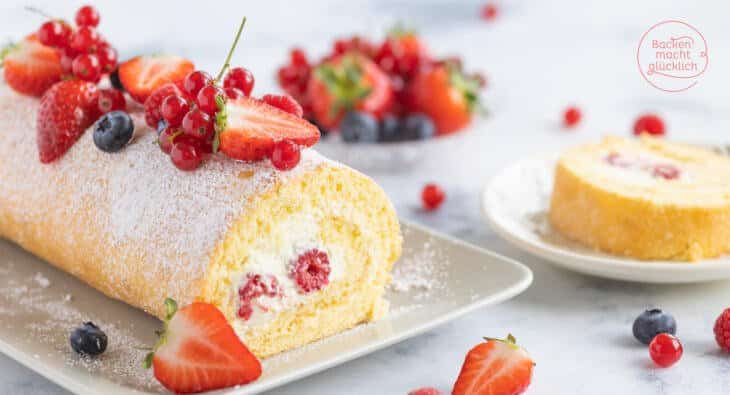 preparation
Preheat the oven to 200 degrees top and bottom heat. Cover a tray with baking paper and delimit it to about 30 * 40 centimeters, for example with a baking frame or double-folded aluminum foil. Place a second parchment paper or kitchen towel on the work surface and sprinkle with 1 tablespoon of sugar. Beat the eggs on the highest setting for about 8-10 minutes until they are very frothy, drizzling in the sugar.

Mix the flour and baking powder in a separate bowl. Sieve the flour mixture onto the custard and very carefully fold in or stir in. Place the sponge cake on the baking tray, smooth it out and bake immediately for 8-12 minutes until it is golden yellow. When the dough springs back with light finger pressure, it is ready. Don't bake too long!

Turn the sponge cake onto the sweetened baking paper while it is still hot, peel off the top paper using a cake palette or a large sharp knife. Then put the paper back on immediately and, ideally, put a kitchen towel on it so that the biscuit can cool down when it is damp. Let cool down for about 20 minutes.

Meanwhile, for the filling, whip the cream with the cream stiffener until stiff. Briefly stir the cream cheese with sugar and lemon juice until smooth, then fold in the whipped cream.

Spread the cream smoothly on the cooled roll. Leave a small margin and leave a small creme mound on the side that is closest to you. Put fruit on the hill if you like. Using the baking paper underneath, carefully roll up the roll tightly. Then shape it nicely with your hands again.

Cover with cling film and chill for at least 1.5 hours. Dust with powdered sugar and decorate with cream tuffs or fruit.
Remarks
The filling with gelatine or a vegetable gelling agent such as agar-agar is more stable and firm (especially if you want to use quark instead of cream cheese or mascarpone). You need about 4 sheets or gelatine powder or gelling agent according to the package instructions.
If you have any questions or problems, please also read the blog post including tips and tricks. You can find information on sponge cake in general in this post.
My eBook "Clean Baking" is here!
Bake so that it tastes heavenly and you do something good for your body too! Learn how to bake according to the clean eating principles. Get your "Clean Baking" eBook now and learn more than 60 healthy and delicious baking recipes with me!

Zu "Clean Baking"

Tips & tricks for sponge cake
General information