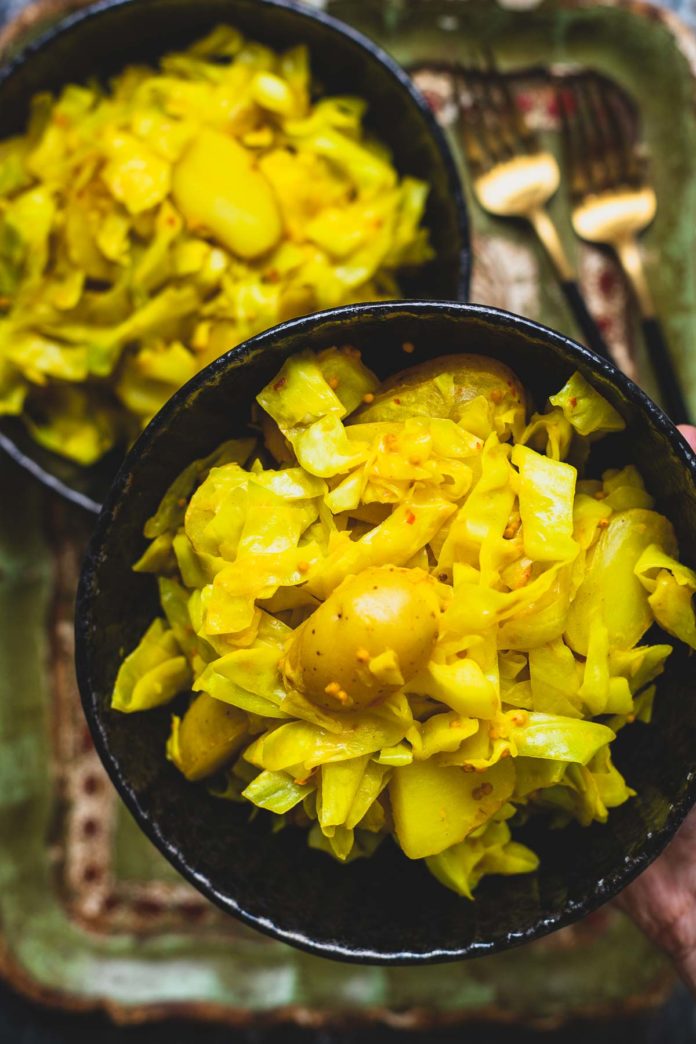 For this pointed cabbage pan with potatoes, I was inspired by the Bengali dish Bandhakopi torkari. It's a simple stir-fry with fried cabbage and a few spices. And although it is prepared in a very minimalist way, it has a wide range of flavors. Still, I made a few changes to my recipe. I left the mustard seeds and turmeric in there. But I also added ground coriander and red chili flakes for that extra kick. And my taste insider tip is also included: Dijon mustard with freshly squeezed lemon juice. That might sound strange, but it tastes great! You can serve the pointed cabbage pan as a side dish and as a main course either hot or cold.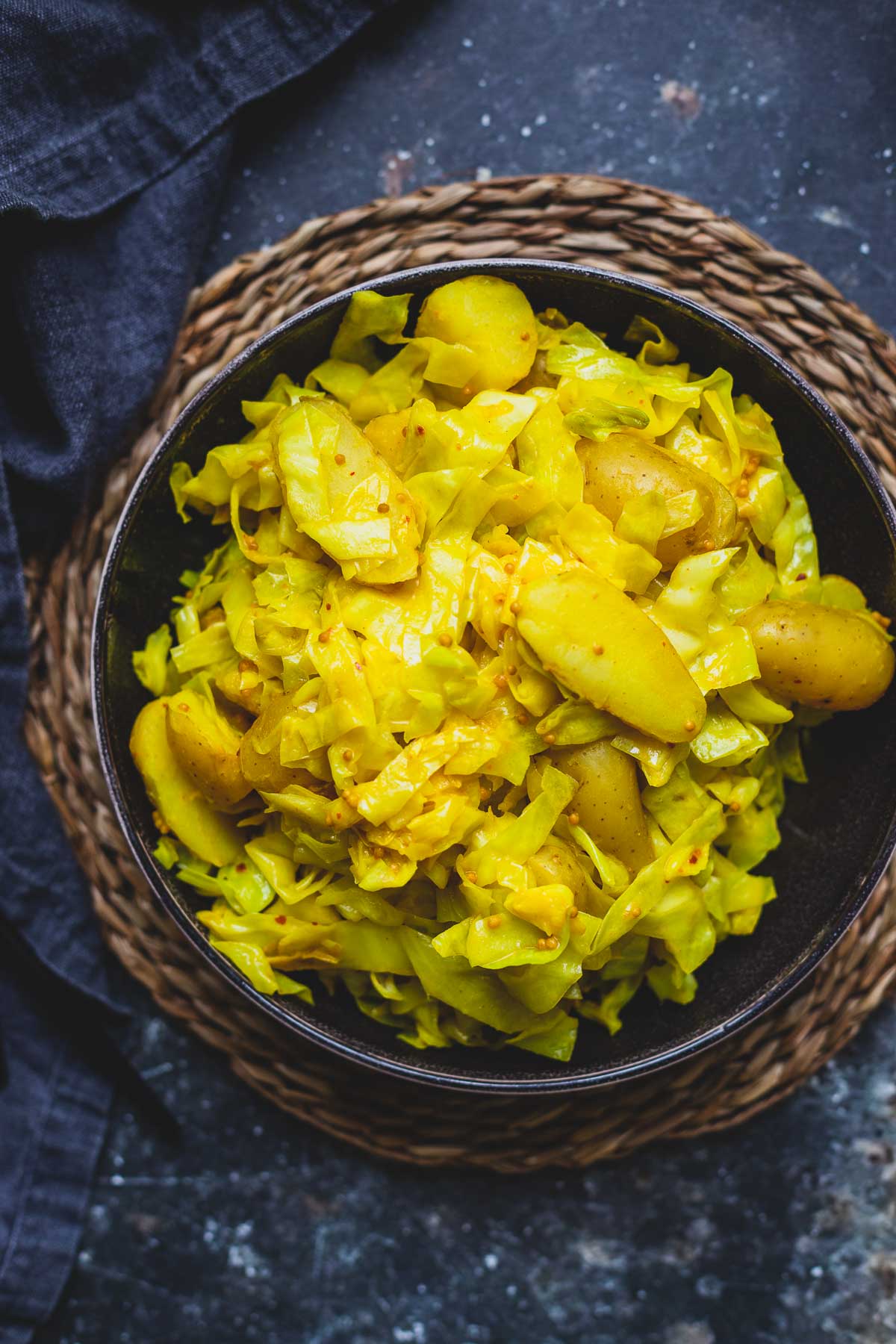 Pin
A simple dish with pointed cabbage as a star
If you're in the mood for pointed cabbage again, then try this somewhat different cabbage dish. The potatoes add a little more flavor to the recipe and make umami. And that's also the reason why this simple side dish can also pass as a main course. When it comes to potatoes, I like to choose small, young potatoes that don't have to be peeled. This is less work and you get an extra helping of nutrients that lie directly under the bowl. You can cut it in half or quarter and break it open with a fork by pressing down on the back of the fork. And I like the pointed cabbage because it has a mild aroma and texture. The cabbage leaves can be cooked wonderfully "al dente" (firm to the bite). This also saves a bit of time, as they are crispy fried relatively quickly compared to braised cabbage.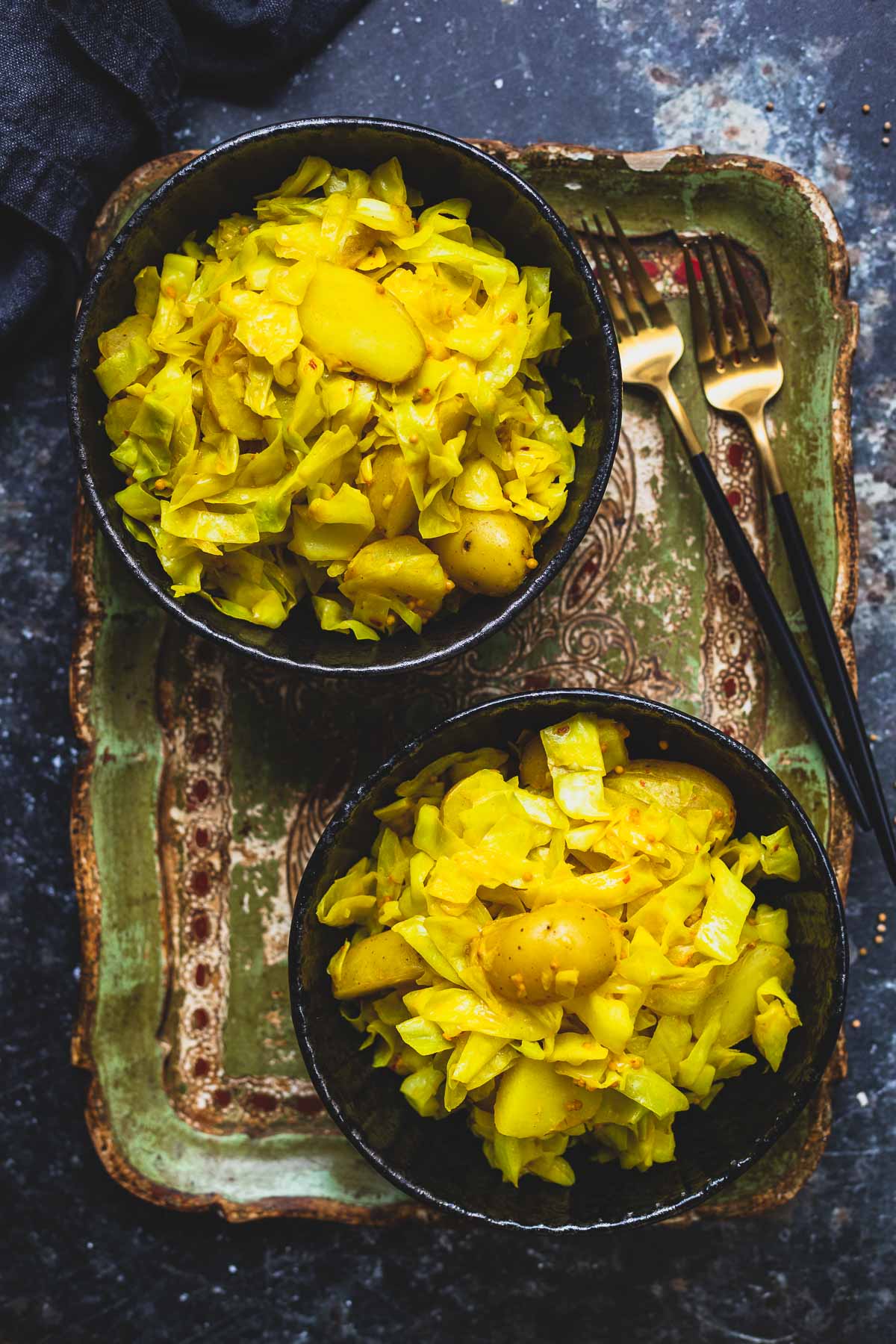 Pin
Cabbage dishes in winter
When it's cold outside, I like to make cabbage dishes. Not only do they taste good, they also provide valuable nutrients and are easy on the wallet. Because instead of spending a lot of money on delivery services, I look forward to homemade cabbage dishes that I can refine with other fresh ingredients.
Serving tips for the pointed cabbage pan with potatoes
I like the dish as I describe it in the recipe, because it is a light and yet hearty meal. But if you want more protein in it, you can add a protein supplier of your choice. Or you can add some garlic naan or roti bread. I can also imagine a lamb curry or a curry rice dish with it. And if you want a little more vegetables, frozen peas or steamed beans always go with it. And if you want to really let it rip, then you bring in grilled prawns.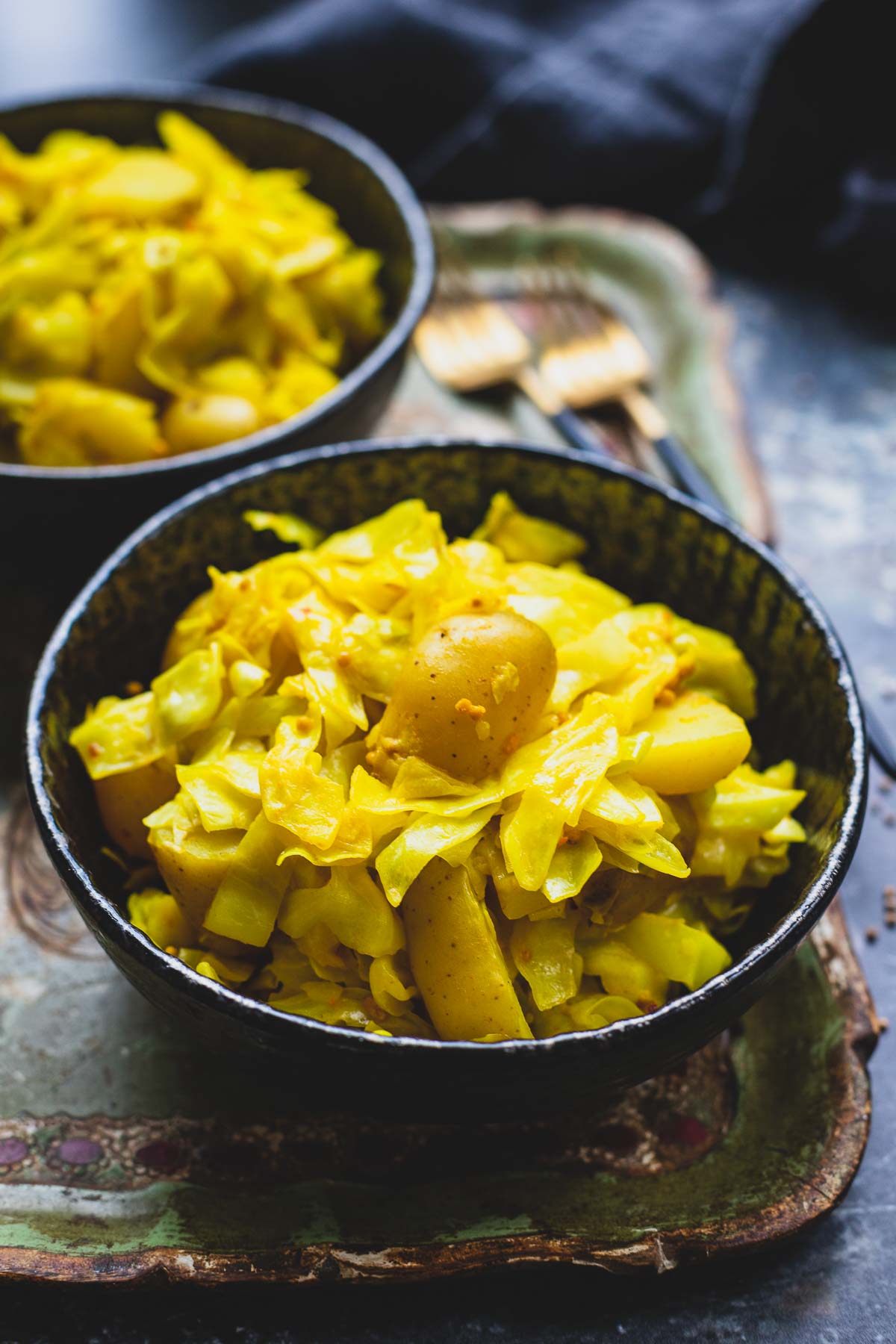 Pin
Do you fancy more recipes with winter cabbage?
Then try one of these delicious recipes:
Pin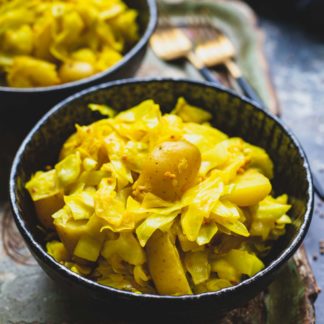 Pointed cabbage pan with potatoes (Bengali style)
This pointed cabbage pan with potatoes has influences from the cuisine in southern India. A delicious dish with simple spices (turmeric, mustard, coriander). A hearty vegan side dish that also works as a main course.
500




g




Potatoes, waxy,




scrubbed clean (triplets or table potatoes)

1,5




HE




Extra virgin olive oil

1,5




TL




Mustard seeds (yellow)

1




Clove of garlic,




thinly sliced

1




Small pointed cabbage,




quartered, cored and cut into thin strips

1/2




TL




Curcuma

1/2




TL




Ground coriander

1/2




TL




Chili Flocken,




(or less if you don't want it to be so hot)

1




TL




Dijon-Senf

2




HE




water

1/2




TL




Zucker




(I recommend organic beet sugar)

1/2




TL




Sea-salt,




or more to taste

Juice of 1/2 lemon,




freshly squeezed (2 tbsp)
Put the potatoes in a saucepan with cold salted water. Bring the water to the boil and turn the stove on low. Let the potatoes simmer until they are soft (15 minutes depending on size). Drain the water and put the potatoes back in the pot.

In the meantime in a coated stew pan or in a Wok pan heat the oil over medium heat and fry the mustard seeds in it until they break open.

Add the ingredients (garlic, cabbage, turmeric, coriander and chilli flakes) and stir well.

Cook the cabbage until tender (about 15 minutes). Stirring occasionally. I like the crispy cabbage.

Halve or quarter the potatoes (depending on size) and add to the pan with the cabbage. Mix well. Add the ingredients (mustard, water, sugar, salt, lemon juice) and stir.

Enjoy!
For a relaxed atmosphere in the kitchen, I recommend my personal Elle Republic: Chilled Out Kitchen Tunes Playlist on Spotify.
Have you tried this recipe?
Mark @ellerepublic on Instagram and use the hashtag #ellerepublic
How did it taste?
I would be happy if you tell me how you liked the recipe for pointed cabbage pan with potatoes. The easiest way is to rate the recipe below with stars ⭐ or write me a comment. Especially if you have more tips for all readers.
Have you changed anything in the recipe?
I am always happy to receive tips and suggestions from you. Leave a comment so everyone can see what ideas you've come up with. Sharing is caring :-).
This post contains affiliate links. If you click on the link and buy a product on Amazon, I will receive a small commission. The price of the item will of course remain unchanged for you. Further information on advertising & promotional links on Elle Republic.